Almost all residential and commercial buildings have central cooling and heating systems. In order to circulate clean air, these systems require air-filtering devices called duct filters. For such a device to perform efficiently, one must install it at the exact point where the cooling or heating system drives air in and out of the ductwork. Professionals in the air conditioning industry call this point the "return".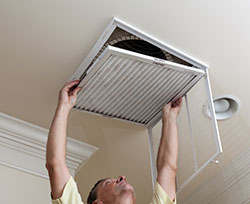 Cleaning the air-filtering device on a regular basis
A duct filter can capture a wide range of contaminants present in public and private buildings. HVAC contractors fix this device in such a way that home heating and cooling air passes through it. As a result, the filter's porous body traps contaminants such as dust, charcoal, hair, and pollen. Over time, these contaminants can clog the filter impeding airflow inside a heating or cooling system. One way of ensuring this does not happen is by cleaning the air-filtering device on a regular basis.
For people who are allergic to dust or pollen, these devices are necessary. The rule of thumb is to buy and install a high quality duct filter. It will trap contaminants and ensure that one does not have to worry about allergies regardless of the weather outdoors.
Installing such a device is quite easy provided you know your way around a HVAC system. Most air conditioning systems have a cover to the "return" section that you can open to install a new filter or replace an old filter with a new one. Before buying this device, it is advisable to check the recommendations of your duct system's manufacturer. Some manufacturers require homeowners to install custom-made filters only. On the other hand, you will come across duct systems that work well with standard filters that you can buy at any hardware store.
Although most air filtering devices are not reusable, there are some brands that you can rinse and reuse. For non-reusable filters, it is wise to replace them several times every year